| | |
| --- | --- |
| Name | R Download Shortcut |
| Compatibility | iPhone, iPad, Mac,iPod touch |
| iOS Versions | 13 or Higher: |
| Price | Free |
What Is R Download Shortcut?
R download for iPhone isn't less than a blessing to all the iPhone users out there. What is it, though?
R Download Shortcut is an iPhone downloader that allows you to download any type of file—videos, images, e.t.c.—without any hassle.
The application works very fast and provides you with a great download speed so that you don't have to wait for hours to download your files..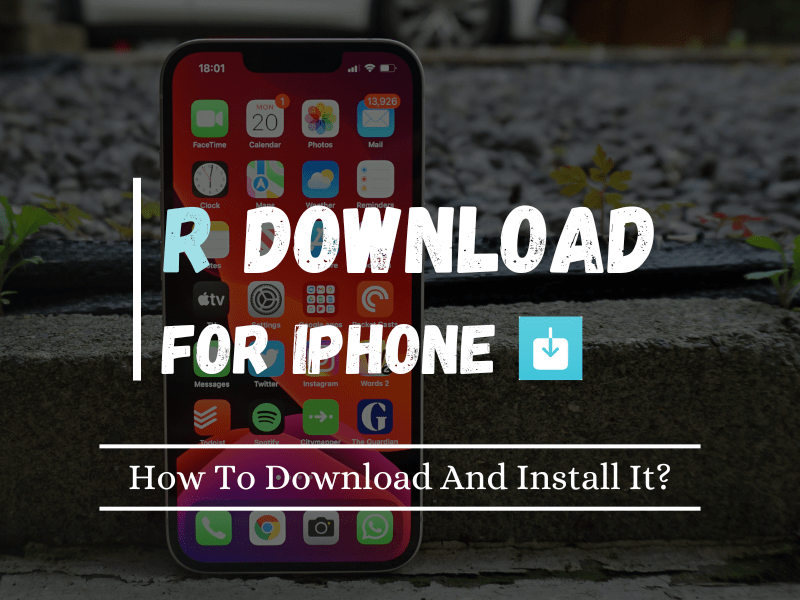 The best thing about the R download shortcut is that it supports pretty much all of the platforms like Instagram, Facebook, Youtube, TikTok etc. This is the best app for you if you're someone who likes downloading reels, stories, and images from these platforms.
Though these platforms don't allow you to download videos, images, and stories directly from your phone's storage, R Download does.
The last thing that I liked the most about R Download was its ability to download any video according to your choice of quality.
Features Of R Download Shortcut
So, what are the features of R download shortcut that you'll be able to take advantage of after downloading it?
It's Compatible WIth iOS Version 13 and Above:
R Download For iPhone is very beneficial for all types of iPhone users as it can easily run on iOS 13 or higher versions.
With R Download, you won't have any problems downloading, whether you have the latest iPhone or an older one.
Download The Video In The Quality Of Your Choice:
R Download lets you choose whether you want high-definition videos for stunning visuals or low-resolution videos to save space.
With this feature, you can download videos in the quality you need, and you don't have to worry about compromising on the quality.
Download Videos From Any App You Want:
Gone are the days of limitations when it comes to downloading videos. R Download breaks barriers by enabling you to download videos from any app on your iPhone.
Whether it's a captivating video on a social media platform, a popular video streaming service, or any other app, you can now save those videos directly to your device.
The app seamlessly integrates with various apps, providing you with the freedom to access and store videos from different sources. Expand your content library and enjoy your favorite videos offline, regardless of the app they originate from.
Easy To Use Interface:
R Download boasts a user-friendly interface that prioritizes simplicity and ease of use. The app features intuitive controls and a well-designed layout, making it a breeze to navigate and understand.
The interface ensures a seamless user experience, allowing you to effortlessly explore the app's features, select your preferred options, and initiate downloads without any confusion or complexity.
Save Reels, Photos, Stories, And Videos In Your Device Storage:
No matter what type of video, reel, image, or story you want to download from any social media site, the R download shortcut will allow you to do that.
Even if the platform doesn't have the download option, you'll still be able to download from it with ease with the help of R Download. Isn't that amazing?
Free To Use The App With No Ads Experience:
It's a totally free app. Unlike many other downloading apps, R Download provides an ad-free experience. The absence of intrusive advertisements ensures a distraction-free environment, allowing you to focus on your downloads without interruptions.
You won't be bombarded with pop-ups or banners that hinder your browsing or downloading experience. R Download is designed to provide a clean and uninterrupted interface, making your overall usage experience more enjoyable and efficient.
No Login Is Required:
Streamline your experience with R Download, as it eliminates the need for any login or account creation. You can dive right into the app and start downloading your desired content without any unnecessary steps.
This saves you time and effort, allowing you to quickly access the features and functionalities of R Download without the hassle of remembering additional login credentials. It's all about convenience and efficiency.
Unlimited Download Without Any Restriction:
The best thing about R Download is that, despite being a free-to-use app, it doesn't impose any type of restriction on your download limit. Not at all.
You can download as many videos, images, stores, and whatever else you want with the help of R as you want. You won't be interrupted by any restrictions.
High-Speed Download:
Save time with R Download's high-speed download capabilities. Whether you're downloading lengthy videos or large photo albums, this app optimises the download process to ensure swift and efficient transfers. Say goodbye to long waiting times and enjoy your downloaded content quickly.
Batch Download:
If you want to download two or more files at once, then you don't need to download them separately by spending more time on each. You can download multiple files at once on the R download shortcut with the help of the batch download feature that it has.
File Management:
R Download simplifies your content management by automatically organizing your downloaded files.
The app intelligently categorizes your videos, photos, and stories, ensuring that they are neatly arranged in separate folders based on their respective media types.
This feature not only keeps your files organized but also makes it easier for you to locate and access specific content whenever you need it.
Say goodbye to the hassle of searching through a cluttered downloads folder. R Download keeps your files well organized for a more efficient user experience.
Multiple Platform Support:
R Download Shortcuts is a fully featured download shortcut solution for your system that provides support for any operating system you might be using, be it Windows, Mac, or Linux.
How To Install R Download Shortcut App
You can install the Ro download for iPhone by following the below-mentioned steps.
How To Use R Download Shortcut?
Why Is R Download Shortcut Not Working?
A lot of users of R Download have reported that their app isn't working. Well, let's take a look at what may cause your R download to not work.
How To Fix These Issues?
After knowing about the issues that make your R download app not work, you must now be wondering how you can fix them. So, now I'm going to tell you how you can fix all of these issues. Let's dive in.
Incorrect Shortcut Configuration:
Outdated iOS:
Insufficient Permissions:
Unstable Network Connection:
Software Bugs:
Now, let me answer a few of your frequently asked questions.
FAQs
What is the R shortcut on my iPhone?
The R shortcut is a shortcut that allows you to download any file with ease. It's a downloader app.
Is R Download Shortcut free to use?
Yes, the R shortcut is totally free to use on the iPhone. You don't have to pay a penny to use it.
Final Words:
Now you know how to download R Download for iPhone. Also, I've told you how you can use it. That's all I have for you in this article.
If you have any more questions related to the topic, then please let me know in the comment section below. I'd love to help you out.